Commercial Services
Fossil Creek Drywall, Inc. has a long history in the Commercial Drywall Business. Our Commercial Services include experienced superintendents, project managers and estimators who offer both practical advice and creative ideas. We realize that it all comes down to three critical dynamics of range, schedule and cost.
Commercial Services:
Structural and Light Gauge Steel Stud Framing
Gypsum Drywall Hanging and Finishing
Core and Shell
Tenant Finish/Built Out
Custom textures including hand or spray
Pre-construction Services
Fossil Creek Drywall, Inc. produces quick and accurate estimates that will accommodate bid due dates or negotiated projects using the latest in The Edge Estimating Software for Building Designs. We are committed to meet budgets and deadlines. Projects are completed to the customer's specifications and we do the job right the first time.
---
Fossil Creek Drywall, Inc. offers Pre-Construction Services early in the design process. Pre-construction services provide clients with the benefit of early analysis of the effects that materials, equipment systems, techniques and schedules will have on project time and cost. This allows the owner and the design team to make the best decisions before construction begins, with the result that your construction costs are held down. We respect our clients' confidentiality about these new, highly sensitive projects.
Pre-construction Services: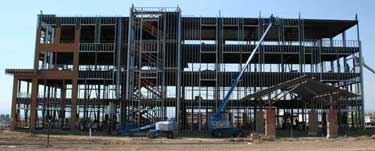 Informative Estimates
Timely and Accurate Budget Proposals
Concise Cost Feedback
Project Designs
Value Engineering Ideas
Schedule Input
---
Safety on the Jobsite
Fossil Creek Drywall Inc. is committed to providing a hazard-free environment for all employees and customers. We recognize drywall/construction can be one of the most dangerous industries to work in.
For any questions or to set up an estimate appointment regarding Commercial Drywall Services Please Contact Us.
We look forward to servicing you!